UC
Opis produktu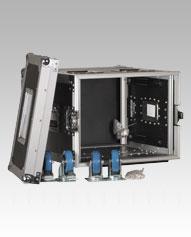 The UC Flight cases are available in two sizes, 8U and 10U. They are custom made to take an 8U PD-1 Power Distribution Unit or the DSP Amp and PP-1 Patch Panel Combination.
An array of strategically placed handles and castors braked and unbraked make the cases easily manoeuvrable.
Heavily constructed using premium grade 9mm plywood, heavy duty extrusions, handles, castors and ball corners make these cases extremely suitable for the rigours of the road.
An ATA specification dish is fitted as standard with label supplied separately for case identification.
Galeria